Table Scraps – Doom Generation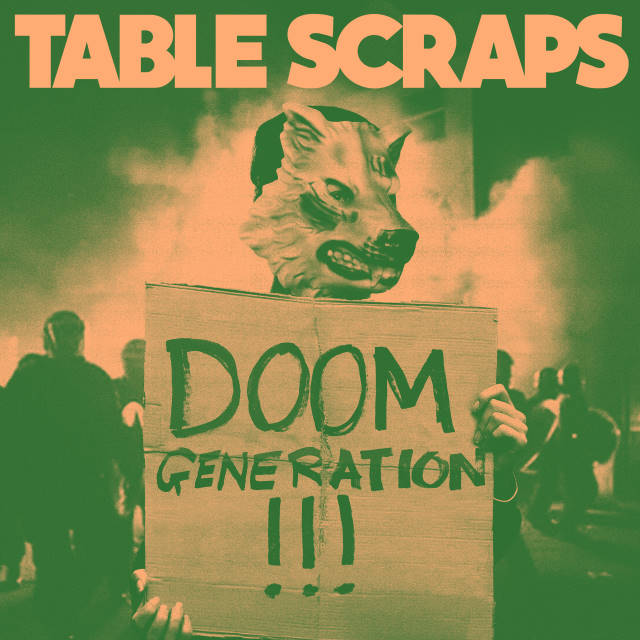 There was no warning. No notification, not a single word. And here it is, a punch in the face, a kick up the backside and a hammer to the head – all at once, in musical form. 'Doom Generation', the new single from Table Scraps is debuting today and oh my God, it's one of the best songs I have heard this year. Written just before the pandemic and mastered during the lockdown, 'Doom Generation' is heralding the arrival of Table Scraps' new album 'Coffin Face'.
Apologies Fontaines D.C. I'm truly sorry IDLES. Please forgive me Bambara – you are now spot number two, three and fourth respectively on my list of the best songs of 2020. A band from my own backyard (hello Birmingham!) is taking the crown with their two minute 15 seconds psychedelic, stoner rock masterpiece.
I'm not sure how to describe the sheer brilliance of this song. It's heavy, intelligent, has great guitar solos and killer riffs. It gets in your head and under your skin in a matter of seconds and you start to sing it. It's well composed, cleverly arranged and absolutely fantastic. A love child of King Gizzard and the Lizard Wizard and The Monster Magnet.
I keep saying that Table Scraps play music that is not really appreciated here in the UK, but is well respected on the other side of the pond. It's a crying shame that rock music is not given the chance it had in the 1990's. I have a feeling that 'Doom Generation' would be debuting at the top of the Billboard charts, kicking Hole and Stone Temple Pilots off pole position had it come out 30 years ago.
Do yourself a favour and once this madness is over, go and see Table Scraps live. You will completely and utterly fall in love with their music.
Rita Dabrowicz (Vanadian Avenue)