False Heads – Twenty Nothing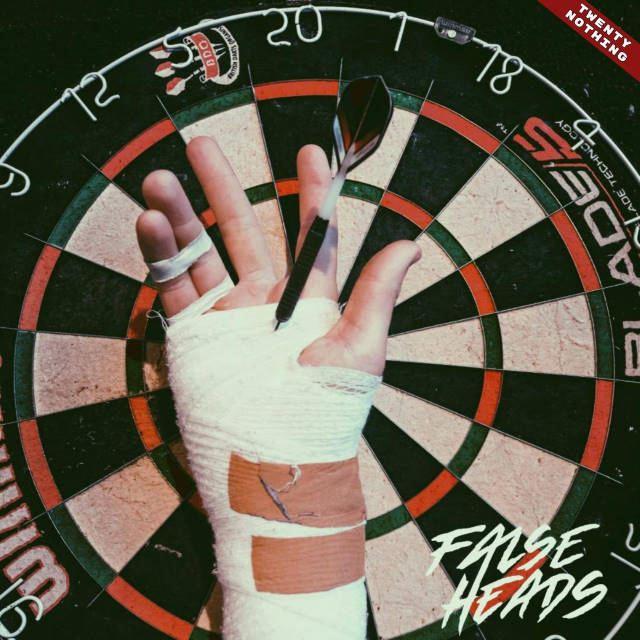 When I think of Radiohead I have their 1993 set for MTV Beach House before my eyes. Thom E Yorke screaming into the camera in pure fury before throwing himself into the pool. When I think of False Heads, I see the band playing a claustrophobic basement at Mother`s Ruin in Bristol and Luke Griffiths throwing himself at the drummer with calculated yet chaotic precision. Blond hair flying in every direction. False Heads could easily become the Radiohead of their generation and if you need to find a new 'Anyone Can Play Guitar' then look no further than 'Twenty Nothing'.
It has always been an angry song, ever since it first appeared on band`s 2017 EP 'Gutter Press' (then stylized as 'twentynothing'), through their debut album 'It`s All There but You`re Dreaming' last year (track no 4), all the way to being their first single of 2021. Each version is different – you can almost see its development from a track that snarled and hissed to a full blown sonic assault. If in 2017 the band were angry young men, now their fury is calculated to the point of cruelty and cold viciousness.
"You have seen the worst in me" proclaims Luke Griffiths in first verse and from there it`s verbal punch after punch: "time to choose whose side you`re on", "you misjudge me by my size", "you should slip back though the net and wait with the rest". The journo who got on False Heads` bad side must have spent the last four years watching over their shoulder and never leaving the house on their own.
But Luke Griffiths and his vocal/riff battery is just 1/3 of the band. Barnaby Nash is possessed behind the kit and his delivery on 'Twenty Nothing' is the closest indie rock will ever get to metal. Laugh all you want, if you see him live, it`s like Nash is drumming for Fear Factory, he becomes a blur of hand movements and heavy hits. Gene Hoglan would approve.
And then there is Jake Elliott on bass, the glue that holds all the chaos, all the violence and all the passion of False Heads together. I could write a whole thesis here proving how exceptional he is in his craft (or as one reviewer said recently – he`s light years ahead of the competition) but will stop at saying this: you can`t have a powerful rock song without a powerful bassist.
2021's version of 'Twenty Nothing' is produced by Joe Cross of The Courteeners who did a bloody good job creating the best version of the song yet. The Single Mix is a harbinger of the re release of 'It`s All There but You`re Dreaming' that should come out in the next few weeks. So there is so much to look out for.
It`s been exactly thirty years since I first heard of Radiohead but I swear it feels like just a few eye blinks. It`s been a nanosecond since I discovered False Heads. Let`s meet up here again in three decades and see what the Essex trio will offer on their ninth album, shall we? Hopefully the planet will still turn, London won`t burn and the destiny will protect them from the world.
Malicia Dabrowicz (Vanadian Avenue)