The Red Stains – Freezer Jesus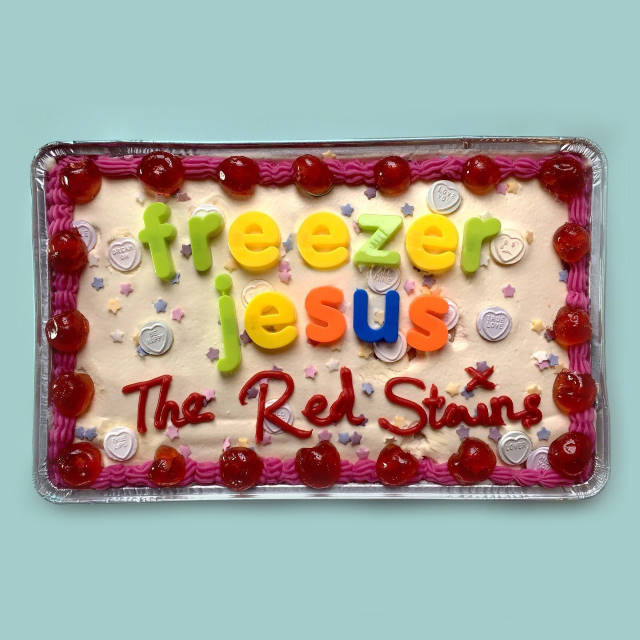 If you have never seen the 80s cult movie 'Ladies and Gentlemen, The Fabulous Stains!' I suggest you quickly find a copy and bring yourself up to speed. The picture inspired the riot grrrl movement  in music (having a lasting impression on members of Bikini Kill and Bratmobile) and has been a fan favourite for years. But recently, the fiction became reality.
Ladies and Gentlemen – let us introduce The Red Stains. The Manchester quartet ae the hottest, most tipped for greatness band on the indie circuit at the moment. They are barely on their second single, formed less than two years ago and in this short period of time managed to appear on every station and in every magazine in the North of England. They have Tom Robinson in their corner who lauded their music and their image on BBC 6.  The bands name is being scribbled on toilet doors at local venues and manga fan arts of the members appear faster than you can say "dear god, The Red Stains are awesome".
It`s hard to squeeze The Red Stains into one particular box. They seem to be equally inspired by 80s post punk and cold wave as well as the Britpop era. The band creates hypnotic soundscapes using bass, drums, keyboards and shouty vocals that remind me of early Shampoo. Their image is flashy, outrageous and yet chic. They are not shy to get involved in politics, radical feminism, anti religious sentiments and it's always be delivered in an in-your-face manner. The Red Stains are unapologetically working class (extra points from me), accurately pointing out shortcomings and absurdities of  life in Disunited Kingdom. If you take Blurs 'Life Is Paranoid' attitude and hand it to Manic Street Preachers in their 'Suicide Alley' era, you can get as close to the essence of The Red Stains as possible. It`s not only music they excel at. It`s their fashion sense, the way they dress to make a statement, how they express themselves creatively, how they pose to the cameras, what they do in their videos. It`s all planned to the tiniest detail. They have a master plan, artistic skills and big mouths to deliver. It's absolutely amazing to witness.
Take their new single 'Freezer Jesus'. Strategically released at the beginning of December, the song mentions the second coming but there is no end of the world. Jesus is quietly shopping in Iceland for frozen food as the lyrics point out while the band bakes Barbie dolls into pies, tries to sell you a second hand car and pose in 'Little Baby Nothing' dresses with tiaras. The music pulsates with a monotonous keyboard lead and best bass lines of 2020, like a tribal Hacienda banger or a primitive Manchester sound.  And then there is a flute or something equally insane thrown into the mix for good measure and you realize The Red Stains are learning from the Fat White Family playbook: music is anarchy, the instruments are there to confuse as much as to entertain you.  "I have better things to follow" – shouts Natalie Emslie about Jesus, religion and his shopping habits. Her voice is crystal clear and it soars.
There is not a single note out of place in 'Freezer Jesus'. It's a perfect indie record that would make any band in the last 30 years proud. I can`t tell you how long the band will remain unsigned because they seem to have caught the ears and eyes of the people in the industry. For starters they have been invited to Kendall Calling by Tim Burgess himself.
You may be lucky and see The Red Stains in Birmingham in 2021*. And you know what? You should not miss that. Watch this space!
The Red Stains are Natalie Emslie on vocals, Sterling Kelly on bass, Ella Powell on keyboards and Ben Dutton on drums.
* – Indie Midlands has The Red Stains booked for a show. Futher announcement forthcoming.
Malicia Dabrowicz (Vanadian Avenue)