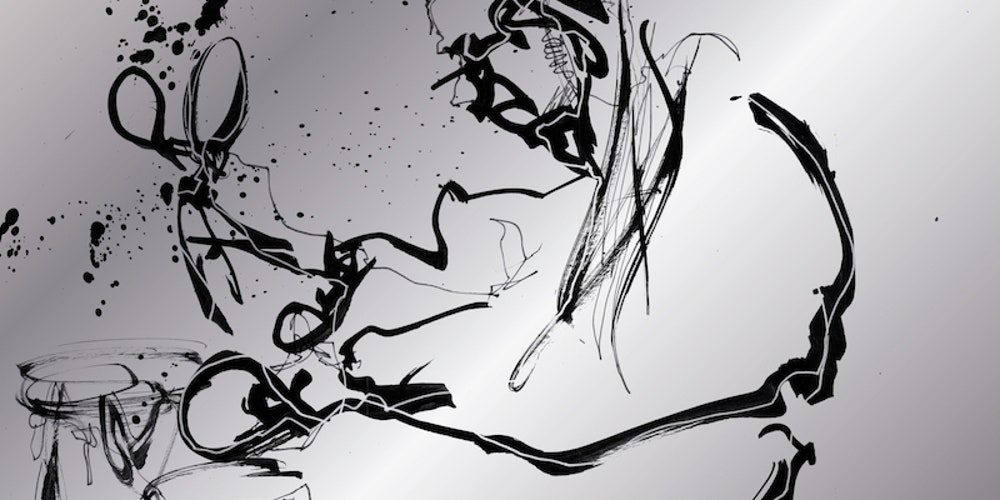 Drummer Quin Kirchner revels in contrasts and juxtapositions. These qualities are deeply embedded in the music of his new album, The Shadows and the Light, which jumps between numerous strains of exploratory jazz with an impressive fluency. There are many playful moments, as well as passages of mystery and melancholy, and it unfolds with an ease that suggests an eager journey through disparate terrains. The album's wild stylistic range squashes time while giving the illusion of being infinite in scope. Kirchner acts as both instigator and agitator as he slides into an elastic swing or propels his group through the whirling syncopation of Afro-Cuban rhythms. Regardless of style, his playing always feels fluid, constantly in flux.
That sense of flow is crucial to the structure of The Shadows and the Light. Several pieces cascade into one another while others are punctuated by transitory percussive palate-cleansers. At the album's center are two suites, both of which establish an air of formless drift before coalescing into groove and motion. "Pathways" plays out against a backdrop of a kalimba fed through delay, with bassist Matt Ulrey channeling Charlie Haden for a solo of contemplative modal runs up and down his instrument before being joined by Nate Lepine's searching flute. As the metallic chime of the kalimba loops, the piece seamlessly transforms into a version of Kelan Phil Cohran's "Sahara," its ostinato bass line passed around the ensemble as Kirchner dances around his kit. Similarly, "Star Cluster," a gooey mess of sax, trombone, and bass clarinet, morphs into "Moon Vision," a steady, backbeat-heavy piece with lush horn hits. For an album that travels in so many directions at once, these moments provide a cohesion that points to a definitive arc.
Though Kirchner cut his teeth in New Orleans and spent time in New York, he grew up in Chicago and the majority of his career has been centered around that city's multi-faceted, ever-evolving jazz scene. He sits comfortably alongside contemporaries like Damon Locks, Jeff Parker, and Ben Lamar Gay, as well as labelmates Chicago Underground Quartet and Charles Rumback. What sets Kirchner's music apart from that of his peers is his focus on incorporating the music and ideas of the iconic forebears of that community into his own individualistic style. In addition to Cohran, his group covers Sun Ra's late-'50s composition "Planet Earth," and his use of a more fleshed out horn section—at times ballooning to an octet—allows him to approximate the kind of large-ensemble cosmic swing that defined that early Ra era, with additional touches of Charles Mingus' outré arrangements for big band shining through.
Though deep debts are owed to those mid-century jazz touchpoints, Kirchner puts various traditions into conversation with each other in a way that feels postmodern, almost collaged, rooting the music firmly in the now. Throughout The Shadows and the Light there's a sense that anything could happen next—a drum and electronics free for all, a poignant ballad, fusion infused with free improvisation, a polyrhythmic blur of Latin percussion and wurlitzer—but nothing feels out of place. Kirchner's compositions are built around tight grooves but flourish in moments of spontaneity and uninhibited fervency. A big part of this is due to his band, which features alto player Nick Mazzarella and bass clarinetist Jason Stein of Hearts & Minds, among others from the Chicago jazz underground. They are nimble ensemble players, but also powerful improvisers on their own, capable of wild melodic tangents and expressive outbursts, and Kirchner's compositions demand full command of both of these modes.
The Shadows and The Light, along with recent albums by Makaya McCraven, Junius Paul, Dustin Laurenzi, and Tomeka Reid, serve to document a true renaissance in Chicago jazz and improvisation. More than just an overview of different experimental idioms, Kirchner is able to rewrite the rules of a wide swath of traditions in his own language, drawing on the grammar of ever-shifting groove and dynamic rhythmic interplay as the basis for his interpretations. There is equal parts joy and reverence in this music, and while listening to Kirchner rejoice in those passions it is hard not to experience them as well.