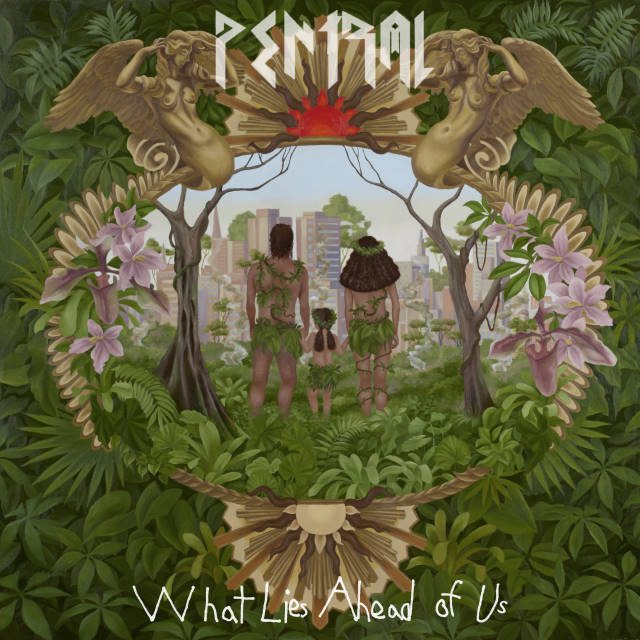 Pentral – What Lies Ahead Of Us
Explosive Brazillian band Pentral refuse to be left on the back burner. Returning with their electrifying new album 'What Lies Ahead of Us' – this power trio have a passion for everything rock music. Using hard-hitting rhythms, addictive melodies and a strong influence of their love for the 60's, 70's and 80's flavour, Pentral are passionate to speak their truth to the world.
Sharing their thoughts and beliefs on environmental protection, equality and the fight against racism, this album deserves to be shouted from every rooftop. Using music as a form of escapism, 'What Lies Ahead of Us' is a breathtaking release for all the metalheads out there.
With first single 'Silent Trees' getting support from New Noise Magazine and other sites across the web, 'Silent Trees' is the perfect introduction into their musical skills and spirituality. Stand out moments on the release come in the form of 'The Shell I'm Living In' and it's reflective nature, 'No Real Colour in Souls', which identifies as a big middle finger to racism in all its forms, this release is political, in a good way.
Talking about the record process, lead vocalist and guitarist Victor mentions, "the album was recorded during the COVID-19 pandemic and it was a huge challenge wearing face masks almost every time. There was tension and fear among the musicians and engineers of getting infected. Besides that, the songs are not "straight". Pentral uses a lot of uncommon and odd time signatures and harmonies, so it was pretty hard to record the final version of the tracks. Atmosphere, harmony, melody, groove and a strong message to make people think. For the band, this is what music is all about."
Be transported into a realm of Pentral, you won't be disappointed.
'What Lies Ahead of Us' is released on May 7th. You can pre-order here.
Chloe Mogg